The entryway is the first thing that people see when they enter your home. If you want to make a great first impression, it may be worth enhancing your entryway. Dressing up entryways is a very popular home trend in 2022. Entryway tables, simple organization, classy mirrors, concrete decorations and family photos are just some examples of entryway enhancements.
There are many practical options to help with changing up your decor and the appearance of your entryway. Practical furniture, pops of color and new lighting might be the perfect touch of trendy for your home. If you don't know where to start, or what would look good in your space, here are some ideas to help you get started.
Add Seating
There are many options to help add seating to your entryway. A comfy bench or some unique chairs can be the best entryway enhancements for you and your guests.
Using a bench gives you the opportunity to accent with pillows. Having chairs or wall seating gives a different feel to your entryway and gives visitors and your family a place to take off their shoes. Even for just a small moment your guests will be thankful for a comfortable place to sit.
Large Mirrors
Not only do mirrors make your area look bigger, they also add a fun element to your entryway. Having an intricate or large mirror as one of your entryway enhancements helps to add an element of sophistication. You can use your mirror practically by using it to fix your hair or makeup before you leave, or more technically by reflecting light or artwork behind you. 
There are also entryway hutches that combine storage and mirrors so that you get the best of both worlds. Sugar House furniture options here.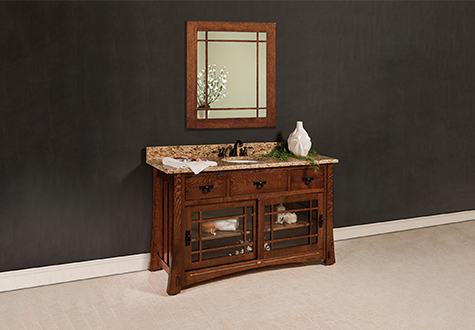 Small Entryway Enhancements
If you have a small entryway, you may think that there are not an entryway enhancements for the look you currently have. But there are options to improve the functionality and even give you more space. Adding some simple art pieces can bring more personality to the forefront of your house.
Slim shoe cabinets can keep clutter off the floor without being bulky. This is another place where mirrors can come in handy, making the space appear bigger. There are many solutions that can help narrow or small spaces be functional and stylish.
Colorful Tile
Whether it's on the wall or the floor, color or patterned tile can help change the feel of your entryway. Choosing a tile can be a show stopping element that takes your entryway to the next level.
Tile also helps provide a moisture resistant area and is easier to clean of debris, dirt, water and more. Not only is tile easier to clean, it is also easier to maintain and keep from wear and tear that comes with carpet or natural wood.
Unique Storage
With modern entryway enhancements comes modern ideas for storage. Some unique options include pegboards, vertical storage, baskets, and hanging hooks.
Using hooks and pegboards offers a way to keep coats, bags and other objects from cluttering the entryway table or floor. There are also options to have removable shelves and hooks so that you can change the look at your leisure and adapt to your growing and changing lifestyle.
Vertical storage maximizes the space you have by using floor to ceiling space and keeps the space more open and easier to walk through.
Baskets are a good way to store miscellaneous items while keeping your space looking clean and picture worthy. Baskets can hold pet toys, cords and chargers, outdoor tools and more.
Sugar House Furniture
Here at Sugar House Furniture, we want every part of your home to feel like you. Whether you are more modern, traditional or somewhere inbetween, or shop has something for you.
We offer custom crafted mission style furniture made with clean edges, flat panels and straight lines that convey a timeless and rustic look for the ultimate in home furnishing distinction. Whether you are looking for bedroom furniture stores or are in need of new living room furniture or dining room furniture, we have a solution to fit your needs.

With options for your bedroom, dining room, office, entryway and more we can provide a classy feel to your space. We love to hear customer feedback and work with you to provide the products you need. Visit our showroom today to see our work and envision it in your home. Our products are also listed on our website and our promotions that are currently available.